Miami Gardens'
Metal Shingle Roof - #1 Roofing Contractors
Metal roofs are quite popular in Florida these days. Metal roofs are advanced and provide greater benefits as compared with its alternatives. Metal shingle roofs are among the top choices because of the longevity and beautiful aesthetic appearance they provide.
Some people think that they do not want the metallic look, but the metal shingle roofs are quite versatile. They can be modified and created to mimic other alternatives such as cedar, clay shingle, and asphalt shingles.  Metal shingle roofs will serve their purpose well if they are installed correctly. For the perfect installation of a metal shingle roof, Miami Gardens Metal Roofing Installation & Repair Team will provide the best material quality, and expertly skilled professionals will install your roof.
So, you can come to us for a great metal roofing experience.
Why are metal roofs preferred?        
Expected life – a properly installed metal roof should stay as long as the house. Most metal roof companies provide warranties for 30 years to 50 years. This is comparatively huge as traditionally used asphalt shingles live for about 1/3rd of the metal roof life. 
 Weight – metal shingle roofs are light in weight. This tends to reduce the structural load on the building itself. Metal roofs weigh 50 to 150 pounds per square. Whereas the tile weighs 750pound per square, and the concrete weighs 900 pounds per square. Because of the lightweight nature, you can save on engineering and building the supporting structure. If your construction is new, it can help you in reducing the roof support members. 
Speed and ease of installation – the metal roofs can be in a single form or multiple shingle sections, or they can be in 12- 36-inch-wide panels. An experienced and accomplished roofer can install the metal shingles without much trouble. The cost of labor will also decrease if the duration of installation is reduced.
 Fire resistance – metal roofs are non-combustible. The international standard laid down has declared metal roofs under Class A roofs. This is the highest level that can be given for fire resistance. This means a metal shingle roof will provide extreme protection against external fires and be installed in areas prone to wildfires without hesitation. 
 Heat conduction – metal roofs are good reflectors of the sun's heatwaves. Hence, they reduce the midday heat gain. It means that you can save the energy spent on air conditioning during the day. They can be installed on insulation materials with r- value. A dead air space that is created between metal and roof deck is used by many systems to minimize heat transfer that will increase energy efficiency.
 Minimal roof pitch – the metal shingle roofs can be installed on a low-pitched roof without causing any roof leak. The minimum roof pitch is 3 in 12. This means that roof will rise every 3 inches for each horizontal foot. 
 Maximum rain and snow shedding – metal shingle roofs are impervious to rain and snow shedding because of the pattern in which they interlock, and the surfaces are hard and slippery. The snow let is encouraged due to the dark tones of metal roofs. 
Cost-effective in the long run – metal shingle roofs have a higher initial cost of installation, but they prove to be quite beneficial in the long run. This is so because they, once installed, have low to zero maintenance. They also reduce utility bills once installed. Metal roofs have a long life span, so the amount of money you invest in metal shingle roofs will pay off eventually.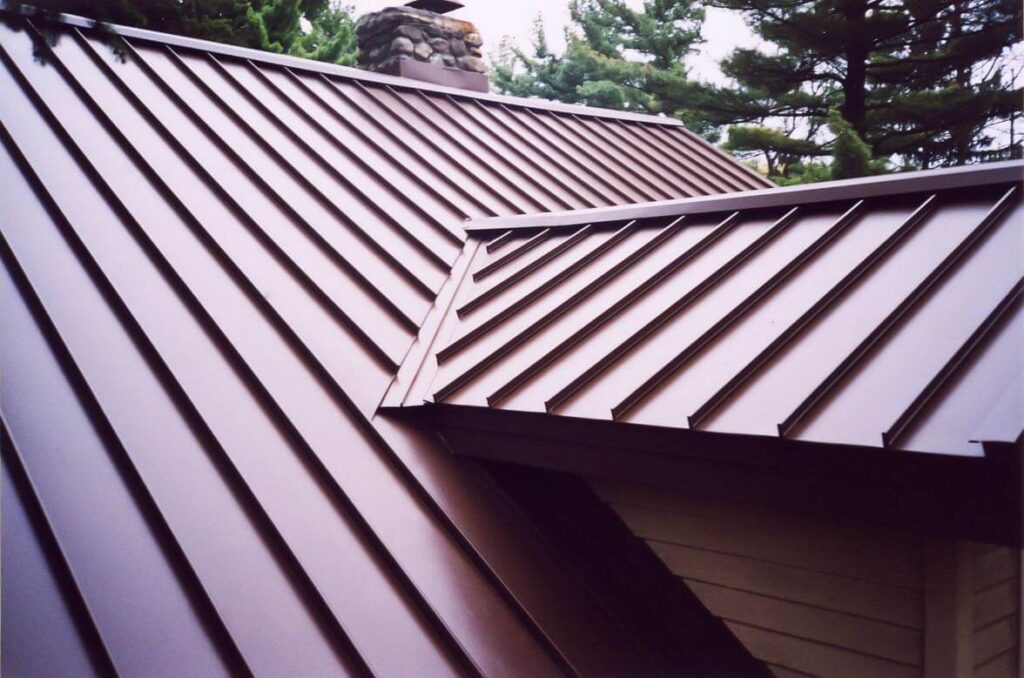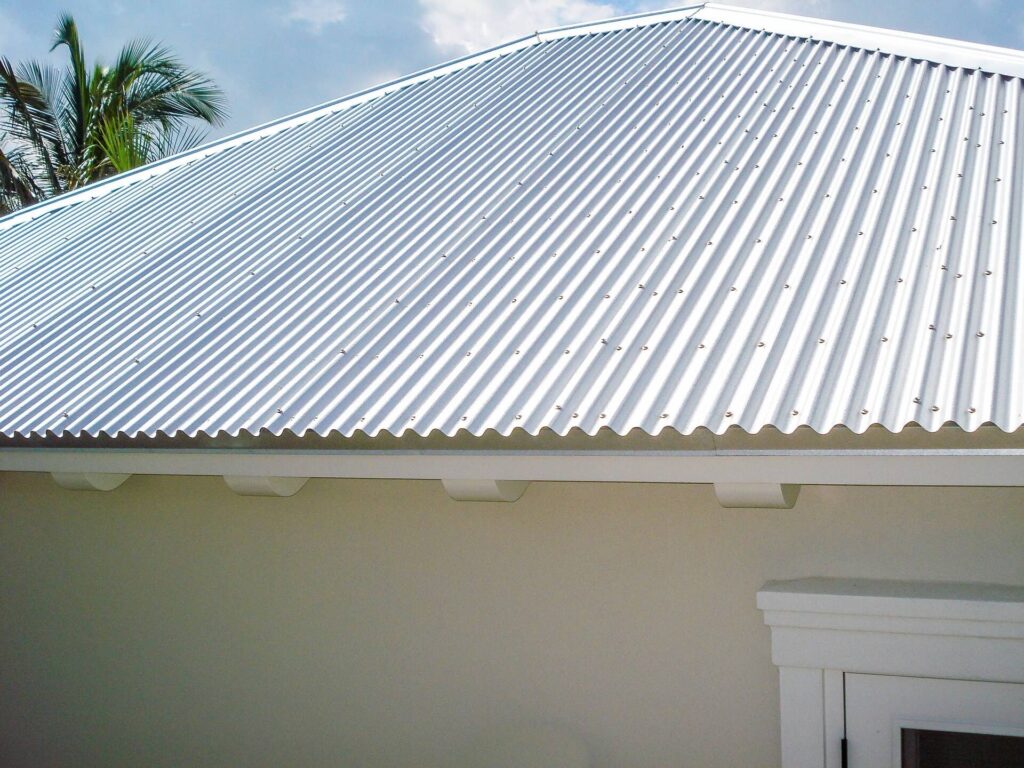 What are the different types of metal shingle roofs available?
Country manor shake provides a lifetime roofing system that provides the highest quality durability and unique designs. The coating applied to the top is guaranteed to resist fading and chalking. The panels are interlocked in a four-way system that will strongly resist hurricanes and winds.
Rustic metal shingle roofs are the best options and are investment-friendly that provide beauty and protection equally well. The 12" to 24" panels are strongly interlocked that can withstand winds, and the low weight enables its installation possible on existing metal shingles. This way, you can reduce the cost of wear and tear and the labor charges also.
Oxford metal shingle roofs are created in a manner that they blend completely with any architectural design in any kind of environment. They are low profile roofs which are excellent in maintaining the temperature as they reflect sun rays.
The slate rock oxford shingle is a combination of the best design with the structural integrity of oxford shingle with colors and textures. The top coating of four-layer PVDF enhances the three-dimensional details of the metal shingle roofs.
At Miami Gardens Metal Roofing Installation & Repair Team, metal shingle roofs are constructed with proper planning, and the designs are customized according to the user's needs.
Why is Miami Gardens Metal Roofing Installation & Repair Team the best choice for metal roofing services?
We have been working in the metal roofing field for a long time. We have constructed roofs that have set an example for many contractors and builders in Miami Gardens. We feel extremely proud of providing international level services in the small-town area. The roofers we hire are extremely efficient and hard working. Your roof will be constructed in proper planning so that there is no chance of error from our side. We work in a customer-centric approach.
We have made our pricing range low so that people have no issues, and their metal roofing work can be done effectively. But no compromise in materials used is made. We believe in providing the best quality materials so that the metal roofs require little maintenance in the future.
If you are new and want a genuine and honest opinion about your metal roof installation, we are the best choice for you. You can expect the best metal roofing services at unbelievable prices. You can call us now and book your appointment with us; we hope to provide quality services to you!
Time to Replace Your Roof? We Can Help
---
Considering roofing replacement? When it comes to roofing projects, many homeowners rely on professionals to get the job done. At Miami Gardens Metal Roofing Installation & Repair Team, our specialists stick to all the industry standards when installing metal roofing on both residential and commercial properties. Therefore, you can be sure of getting a sturdy roof on top of your house. As a result, you can get the best services from our company in the following fields;
What Locations do we Serve?
---
Miami Gardens Metal Roofing Installation & Repair Team is a name you can trust and rely on. Our metal roofing services were limited in Miami Gardens, FL when we started. But with time our company has expanded and is now serving over ten locations within Florida.
It shows how reliable we are. Here are some places within Florida, where you can access our world-class metal roofing services: –